Ticket Booth: 225.664.8098 or follow our FB page for updates: @PARDSFitnessandAquaticsCenter
SUMMER 2020 DATES:
OPEN
*MAX Capacity: 230 people
*Tables & chairs will remain 6 feet apart.
*Private Pavilion: CLOSED
HOURS:
Monday-Friday: 10AM-5PM
Saturday: 10AM-6PM
Sunday: 12PM-5PM
ADMISSION:
In District: $6.00/person
Out of District: $9.00/person
*District is based off of Recreation Tax*
Rules & Forms:
NO REFUNDS ARE GIVEN FOR ADMISSIONS.

You MUST pay to Re-enter AQUA PARDS.                           

NO SMOKING ALLOWED

!

ABSOLUTELY NO outside Food or Drinks ALLOWED in park. We have a Concessions Stand!
RAIN OUT POLICY:
If AQUA PARDS has to close due to weather, any guest who has been in the park for one hour or less from time of CLOSURE will be issued a "Free Admission Pass".

We close for a minimum of 30 minutes and no more than an hour before determining if the park will be CLOSED for the day.

We will use the time printed on your entry ticket. NO CASH REFUNDS WILL BE ISSUED.
Rental Information:
Birthday Party Rentals:
(Starting Friday, June 26th)
Available Friday evenings from 6:00 – 8:00 pm
prices start at $200.00
Exclusive Rentals:
DATE and Time based on Availability and will be determined by Aquatics Director
Exclusive use of Water Park for 2 hours with ONLY your party allowed.
Call (225) 664-8099 for more information.
Private Pavilion Rentals:
(CLOSED)
Private covered pavilion area with seating for up to 32 people
$25/hour (2 hour minimum)
$150/day Monday – Saturday
$100/day Sunday
Call (225) 664-8099 for available dates
AQUA PARDS SPLASH PASS: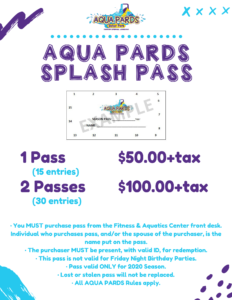 **You must purchase your pass from the Fitness & Aquatics Center Front Desk.
If you have any questions, please call 
(225) 664-8099
or stop by the Fitness & Aquatics Center
30372 Eden Church Road
Denham Springs, LA  70726