2020 Competitive Soccer Tryouts
Try out dates:
Sunday, June 28 at 6:00 – 7:30pm
Tuesday, June 30 at 6:00 -7:30pm
Thursday, July 2 at 6:00 -7:30pm
Age Groups
Ages 10 and up are eligible to try out! See below for age chart breakdown.
Try out locations:
Try outs will be held at two locations:

Girls tryouts will be held at the new soccer club complex located by the pond and walking trail. Park in the field by Baseball Field #7 (or the walking trail parking lot) and head on over to the PARDS Soccer Club Complex! (Map located at the bottom of this page)

The boys tryouts will be held at Smoothie King Soccer Complex (inside the track).
How to register for a try out slot:
Please use the form below to register for try outs. You are welcome to come any of the three available days, whichever works out best for you! You will also be able to register at one of two check-in areas at North Park on the day of tryouts.
Click the image to make it larger!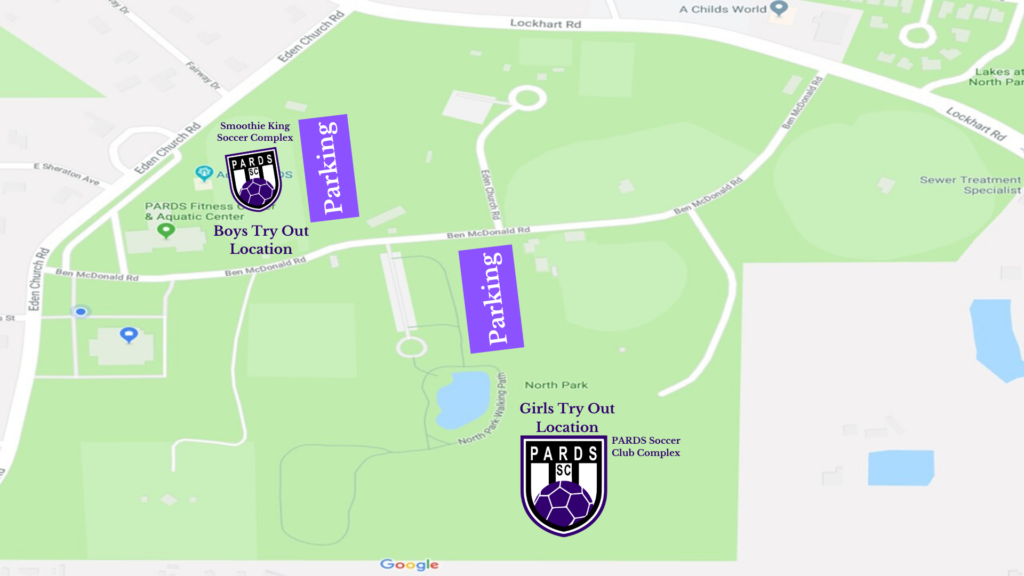 What should my child bring?
Soccer apparel, i.e. soccer jersey, shorts and socks
Cleats
Ball – be sure it is fully inflated
Shin Guards
Plenty of water
Weather Conditions:
In the event of inclement weather, updates will be emailed to all players pre-registered for tryouts if any changes to the schedule are made. Updates will also be posted to all PARDS SC social media.
COVID-19 Related:
Due to the COVID-19 restrictions given the governor's continuation of "Phase 2", and the shortened LSA Tryouts window, PARDS SC will have a more "condensed" tryout process this year. ALL age/gender groups will tryout on the same 3 days, plus extra coaches & guest evaluators will be on hand each day. All players are encouraged to attend all 3 days to improve their chances regarding team placement, but only 1 session is required to be evaluated.
Please be prepared to answer a very brief questionnaire &/or go through a no-contact temperature check at the registration/check-in tables.
Phase Two Restrictions
Extended through July 24th, 2020
During this Phase small groups may return to play under strict adherence with the Return To Play Protocol and Responsibilities below. The goal in Phase Two is to maintain absolutely safe conditions for our players while we give them the opportunity re-establish their soccer fitness and become acclimated to the early summer conditions. Phase 2 IS NOT an open invitation to return to the game as we knew it before the pandemic.
Activities Permitted: Small group (10 or less) training in which social distancing is strictly observed and game conditions are avoided. Fitness, speed and agility training
Activities Prohibited: Full practices, scrimmages, games, etc.
Unable to make try outs?
We also recognize some players will be unable to attend due to previously schedule vacations, therefore we will hold a supplemental tryout session on a case by case basis. ALSO, if you are uncomfortable with returning to the field during this extension of phase 2, we will accommodate you as best we can. In either case, please email us at so that we can make alternate arrangements.
LSA Policy Info:
LSA Policy 300.2 governs when member clubs may conduct tryouts for Classic teams. Any team assigning players on the basis of talent by the use of tryouts, invitations, recruiting or any like process shall be considered a Classic team. Clubs are prohibited from advertising and/or conducting tryouts in order to form teams in age groups 10U and younger.
LSA Tryout Period Begins: Friday, June 26
LSA Tryout Period Ends: Noon on Friday, July 3
LSA Invitation Period Begins: Noon on Friday, July 3
FAQs:
Arrive early: at least 15-20 minutes prior to start time to check in.
Tryout activities will be set up in groups of ten (10) or less players. Most activities will be technical such as dribbling, passing, finishing, etc., and not as a full team.
Tryouts will follow the parameters as set forth in the "Return to Play Phasing, Protocol and Responsibilities" document as provided by LSA.
The use of scrimmage vests or pinnies this year is prohibited.
Invitation Period begins at Noon on Friday, July 3. Dates are provided by LSA and Clubs cannot make announcements until those dates.
Who will be my child's coach? This is a very common question & PARDS SC will have the team/coach pairing announced on your invitation letter. In the meantime, our full coaching staff will be announced via social media in the upcoming days prior to tryouts.
Can I watch tryouts? Yes of course! However, we do ask that parents remain OFF of the fields at all times during & after tryouts. Also, please observe CDC-recommended social distancing guidelines. Please also understand that Coaches/Evaluators will NOT be discussing individual player performance with parents during/after tryout sessions.
What age groups play competitive soccer? See below for the birth year chart & corresponding team:
Please see the chart below for the 2020-2021 tryouts:
Birth Year 2020-2021 Age Group
2002 U19
2003 U18
2004 U17
2005 U16
2006 U15
2007 U14
2008 U13
2009 U12
2010 U11
2011 U10 – not allowed to tryout or play-up as 11U (LSA Policy)*
Can/Will my child play "up" an age group? This is an answer best given on a "case-by-case" basis. Certain players displaying exceptional skill level may ask (or be asked) to play with an older age group team. Our policy will always be to attempt to create a "true age group" team to the best of our ability. There will often be cases where we may have to combine age groups to field a competitive team.