First Purple Martins Have Arrived at North Park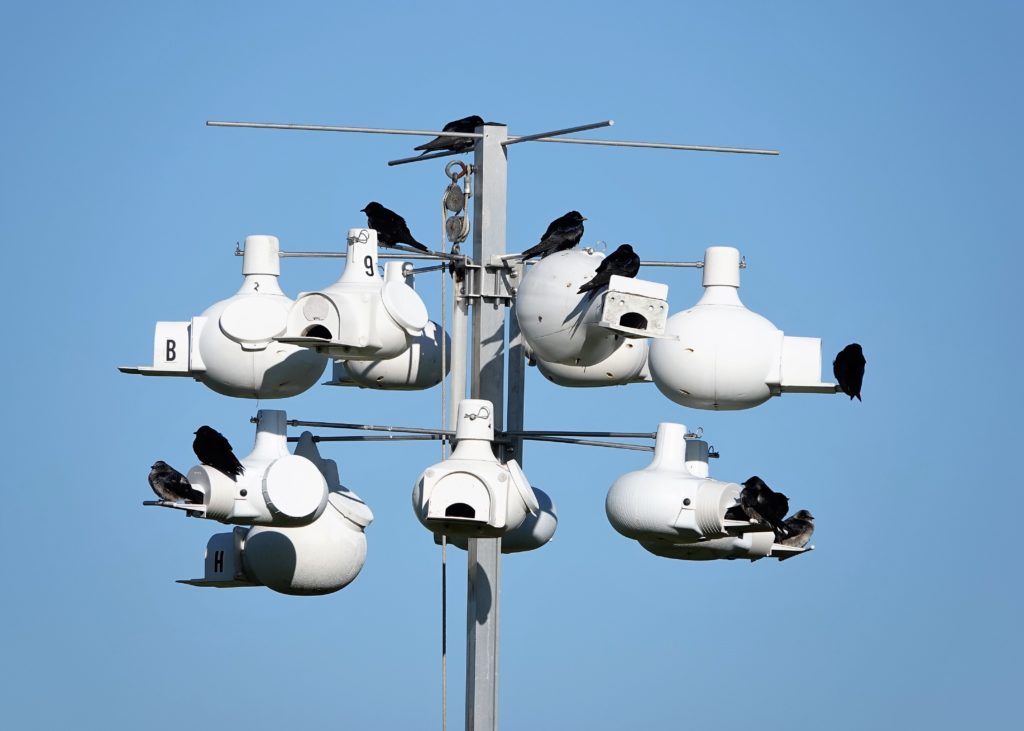 The Purple Martins have returned to North Park!  Krista Adams reported the birds were first spotted several weeks ago and have been increasing in numbers.  As of February 25, 2020, Krista estimates that there are approximately 40 Purple Martins at the site which is located next to the walking path.
The birds will continue to arrive over the next several weeks, and it's anticipated the site will fill up to capacity. Due to the success of the colony growing in numbers each year, the site has been expanded by adding a 12-unit house. This brings the total nesting cavities from 50 to 62. Last year Krista recorded 48 nesting pairs.
Krista has received a few emails from individuals asking when the martins would be returning to the park. She explains it's not uncommon to not see the Purple Martins when they first arrive. Right now the Purple Martins spend a lot of their time high in the sky feeding and pairing up. The best time to see them is early in the morning and right before dusk when they return to roost for the evening. They will begin actively nest building soon and will be more prevalent around the colony, especially as the warmer weather arrives.
The park is happy to host this Purple Martin colony and is excited to be a part of the conservation efforts to help these birds who rely on us for their housing. Please know that only authorized individuals are allowed near the colony.
Make sure to mark your calendar for the Purple Martin event scheduled for Saturday, May 9th, from 9:00 a.m. – 1:00 p.m. Details will be published soon as plans are finalized. It's going to be a great year! Stay tuned!
For additional information about Purple Martins, please visit www.purplemartin.org.